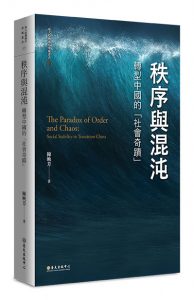 Yingfang Chen 陳映芳
NTU & HYI Academic Book Series No. 9
National Taiwan University Press, 2021
About the book: The past half a century has witnessed China's profound socioeconomic changes at an accelerated pace since 1990s. In spite of such unprecedented transformations as the drastic shifts in values, the social and geographical mobility of citizens in hundreds of millions, the large-scale urban development, and the increasing social polarization, there has been no fierce conflict between social groups, and the social order is generally well maintained. How can we account for such a China Stability Myth?
This book unfolds the "politico-social stability" of Chinese society during its rapid change since the late 1970s. Different from the analysis provided by macroeconomics or the state institutions approach, this research draws on insights from the society-centered theories and is devoted to "rediscovering the society." Through a combination of field research, institutional analysis and historiography, this study discovers the "invisible system of society" from the fabrics of social life. Meanwhile, the reality is situated in a historical context to gain insight of the dialectical relationship between chaos and order in a transitioning society. Proposing some important concepts such as "key systems of society", "politics of transition ", "meta-frame of social transition " and "the state of liminality", the author demonstrates how the deep-seated social structure affects the operation of the whole society as well as the change of political and economic situation.
『在20世紀70年代特別是90年代以來的社會經濟/社會體制變動中,中國發生了諸如價值規範大轉折,數百萬職工下崗,數億農民流動,土地/城市大開發,社會急劇分化⋯⋯這樣的一系列社會劇變,可是,總體而言,社會群體之間並沒有發生激烈的衝突,城市也沒有出現大規模的騷亂,人們的生活秩序看似也沒有崩潰⋯⋯所有這些,究竟是如何可能的?』
本書對上世紀70年代末以來中國社會急劇變遷過程中的「政治—社會穩定」現象作出解釋。有別於一般宏觀經濟學或國家體制研究的分析路徑,這項研究致力於「重新發現社會」——從社會中心論出發,通過田野實證調查、制度分析和歷史社會學等方法,在社會生活的細微之處發現隱而未現的社會體制;同時將現實置於長歷史時段之中,洞察轉型社會中混沌與秩序間的辯證關係。在研究中作者提出了「核心的社會體制」、「過渡期政治」、「社會轉型元框架」、「邊界狀態」等重要概念,分析說明社會的深層結構是如何影響整體社會的運行,以及政治經濟局勢的變動。
About the NTU & HYI Academic Series: The book series, published by National Taiwan University Press, is a collaboration between the Harvard-Yenching Institute and the College of Liberal Arts of National Taiwan University. The Series publishes scholarly monographs in Chinese which make a major original contribution to the humanities and social sciences. Interdisciplinary studies are especially welcome. Submissions are encouraged from all Chinese-speaking regions and beyond. For more information about the NTU-HYI series, please visit the NTU Press website.