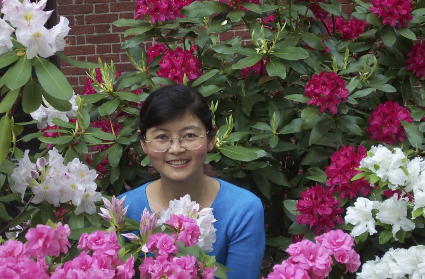 Chen Yunqian 陈蕴茜 (1965-2020)
Professor Chen Yunqian (陈蕴茜) was born in 1965. She got her BA, MA and PhD from the History Department of Nanjing University and had been a faculty member in the History Department since 1990. She was a visiting fellow at the Harvard-Yenching Institute from August 2001 through the end of 2002. She spent time as a visiting scholar at the University of Pittsburgh, Pennsylvania. Throughout her teaching and research career, she actively participated in academic events and conferences held in Japan, Germany, Poland, Israel as well as in Hong Kong and Taiwan.
Professor Chen Yunqian's research covered a wide range of areas including Modern Chinese History, New Cultural History, Social Memory, Urban Space, and Gender Studies. Among her many publications, a groundbreaking work resulted from her decade-long work on Sun Yat-sen entitled Worship and Memory: The Construction and Dissemination of Sun Yat-sen Symbol, Memorial Space and Collective Memory about the Revolution of 1911 (Nanjing University Press, 2009). With a new perspective, and through sharp analysis and thorough and meticulous research on archival materials, this book illuminated complicated aspects of social, political and cultural transformation of modern China and was acclaimed as one of the most important works on Chinese political cultural history. This book has been widely cited and listed as a must-read book for courses on modern Chinese history. She published more than 50 papers in the leading journals in her field. Many of her papers were published in the Journal of Modern Chinese History (《近代史研究》), Open Times (《开放时代》), Shilin (《史林》) and Scholarship Monthly (《学术月刊》), and they were widely cited in research on public space, urban life and historic memory.
Professor Chen was a wonderful colleague and a dedicated and responsible teacher. Her passing is an immeasurable loss to everyone who knows her, and to the field of history, to the History Department of Nanjing University and beyond. She is dearly missed.
Read tributes to Prof. Chen from her colleagues, students, and friends
陈蕴茜,1965年6月生,江苏南京人。1983年进入南京大学历史系学习,先后获得学士、硕士、博士学位。1990年硕士毕业后留校任教至今。曾为哈佛大学暨哈佛燕京学社(Harvard-Yenching Institute)访问学者、匹兹堡大学短期访问学者,并赴日本、德国、澳大利亚、波兰、以色列及台湾、香港等地的高校和科研机构进行学术交流。
陈蕴茜教授长期从事中国近现代史研究,在历史记忆、城市空间、性别研究等领域颇多建树,是国内较早倡导和践行新文化史的学者之一。陈蕴茜教授的代表作《崇拜与记忆:孙中山符号的建构与传播》(南京大学出版社2009年)60万余言,视角新颖,构思精巧,资料翔实,论述严密,从不同侧面深入探讨了孙中山符号的建构与传播、孙中山崇拜的形成与发展,藉以透视民国时期国家与社会、精英与民众之间复杂多元的互动关系。透过孙中山符号研究,该书揭示了国民党权力技术的多样性、灵活性与控制性,以及中国从传统国家向现代民族国家转型过程中,国家权力如何进行现代性建构并发挥其社会控制功能,从而折射出中国近代社会政治文化变迁的复杂面相。该书被视为国内政治文化史研究的标志性成果,在学界产生了极大反响。
陈蕴茜教授是国内历史学界引用频次最高的学者之一,她在《近代史研究》《开放时代》《学术月刊》《史林》等刊物发表的数十篇学术论文,涉及近代公共空间、城市婚姻、历史记忆等,得到相关领域学者的一致好评和广泛征引。
陈蕴茜教授热爱生活,待人真诚,温润如玉。她不仅是一位优秀学者、好老师,也是一名好妻子、好母亲;她的逝世,是历史学界的巨大损失,也给家人、学生和朋友带来了无尽的悲伤。陈老师,一路走好!