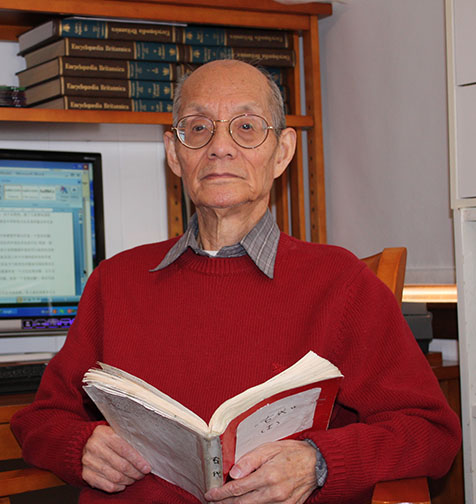 Obituary of Professor Tongqi Lin (English Version)
Professor Tongqi Lin (林同奇), Associate of Harvard Yenching Institute, died on July 7, 2015 at the age of 92.
Born in 1923 in Beijing, Professor Tongqi Lin graduated from and taught thereafter in the Department of History at Fudan University in Shanghai. He then served for 35 years as a faculty member of Luoyang Foreign Language College and Beijing Foreign Language University. In 1985, he was recruited by Fairbank Center of Chinese Studies and Harvard Yenching Institute, where he engaged in academic research for over 30 years.
His life was devoted to a broad range of cross-disciplinary explorations. They covered Western and Eastern intellectual history, philosophy, and theology. Professor Lin is widely known as a forerunner in introducing the problems of Western China scholarship to Chinese intellectuals. He translated, with an insightful foreword, Professor Paul Cohen's book, Discovering History in China: American Historical Writing on the Recent Chinese Past. It opens many Chinese scholars' minds to rethink their history from an internal perspective rather than a set of expectations derived from Western history. Professor Lin has published several books and numerous papers in both English and Chinese, most of which have deeply influenced the scholarly world. He spent his entire life in search of the ultimate conscience for Chinese culture. His major works are compiled and published in Lin Tongqi Anthology: The Humanist Quest.
In the last 10 years, he extensively studied Benjamin Schwarz's thoughts in terms of recovering cultural traditions across the so-called "axial age civilizations." This brought him recognition as the person deepening the understanding of Ben Schwartz's work in Chinese scholars. He worked alongside Professor Wang Yuanhua in China, persistently promoting the idea of reflecting on the Cultural Revolution, and hoped that a better scholastic environment could appear in his motherland.
 He is survived by his wife, Shulan Ye (叶树兰); son, Pokung Lin (林伯工)of Framingham; daughter, Poping Lin(林伯平) of Boston; daughter-in-law, Lihe Su (苏立和)of Framingham; and grandson, Brian Lin (林叔晨)of Brookline. He has many siblings, however, only his brother TungKuang Lin (林同光) , sister Sylvia Lin (林同环) and Amy Lin (林同崇) survive him. His brothers TungChi Lin (林同济), Tungyen Lin (林同炎), Tongji Lin (林同骥), sisters TungYu Lin (林同耀), TongZao Lin (林同早), Anna Lin (林同融),  Nancy  Lin (林同端) sadly, have predeceased him.
A memorial service is planned for Saturday, August 1st at 9:30 AM in the Appleton Chapel, situated within the Memorial Church in Harvard Yard. Free parking has been arranged for the event in the Broadway garage at 20 Felton Street, Cambridge, starting from 8 AM and extending to 2 PM.
For those who would like to speak in the memorial service please contact Pokung Lin at tqmemorial@pklin.com
For those who cannot come in the services but like to share their memory of Professor Lin could email your story to the above email address. We can read it to the audience for you.
In lieu of flowers, donations may be made in Tongqi's name to help build libraries in poor areas of rural regions in China. Checks may be made to the "Cultural Enrichment Coalition", and mailed to:
Mrs. Ping Chen
Treasurer, CEC
17510 Tuba Street, Northridge, CA, 91325
Memo: In Memory of Tongqi Lin.
 
The Cultural Enrichment Coalition is a non-profit foundation. It has established 153 libraries in those areas across China. You will receive a tax-deductible receipt from the treasurer.
Cultural Enrichment Coalition home page:  www.cec-jianhuashe.org
 —
Tongqi Lin's family