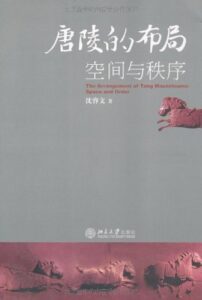 Shen Ruiwen 沈睿文
Beijing: Peking University Press, 2009, 7+5+2+378pages.
Reviewed by Li Fangyao (PhD candidate, Department of History, Peking University; Harvard-Yenching Visiting Fellow 2011-12)
This book is a monograph on the Imperial Mausoleums of Tang China, with comparative perspectives ranging from the Han and Northern Wei Dynasties to the Northern Song Dynasty. The author takes the arrangement of Mausoleums in the Tang Dynasty as a whole, placing them into a long historical tradition. Archeological excavations, including not only buried objects but also remains above ground, are primary sources for analysis. Furthermore, the author uses official proclamations, stone inscriptions as well as manuscripts preserved in Dunghuang Cave, making the book a comprehensive work.
Besides the introduction and the "Ongoing Thoughts" section which serves as a conclusion, the book is composed of six chapters and three appendixes. In the Introduction, starting with the discussion on the Death Rites, the author presents several research topics concerning Tang Mausoleums. In Chapter One, he classifies Tang Mausoleums into four cemeteries according to location, analyzing the cause of regional distributions. Among the four cemeteries, the one in Shaanxi Province is the most important, and it becomes the main subject of Chapter Two. In this Chapter, the author discusses factors which affected the formation of the Shaanxi cemetery: the Rite of Zongmiao (Ancestral Temple), the consideration of the Emperors, and the conventions of preceding dynasties. Two appendixes about the arrangement of the cemetery of Western Han's and Northern Song's Mausoleums are attached to this chapter. In Chapter Four, the author gives explanations of the structure and appellation of the Imperial Mausoleum and establishes a connection between the mausoleum and the capital palace in terms of construction. In Chapter Four, the author discusses the typology and development of the Tang Mausoleum Yard. He considers Qianling (the Mausoleum of Gaozong and Empress Wu) as a crucial point in stylizing the stone inscription of the Mausoleum Yard. The last two chapters consider subordinate themes concerning the Tang Mausoleum. Chapter Five studies the Six Horses and the Statuaries of the Chiefs of Fourteen Countries. Chapter Six focuses on the accessory burial cemetery. An appendix about Yongguling (the Mausoleum of Empress Dowager Feng of the Northern Wei Dynasty) attached to the last chapter illustrates how Han tradition was involved in formulating the Mausoleum of the Northern Dynasties, which was also a significant subject in the Tang Dynasty.
Throughout the whole book, the author holds a steady understanding that the process of formulating the Mausoleums during the Tang Dynasty is based on the traditions of the Han and Northern Wei (斟酌汉魏). However, rather than a constant process, the author take the traditional discourse in current circumstances and tries to present how this discourse was formed, what changes it underwent and how it was manipulated, undertaken, modified and eventually enforced in the arrangement of Tang Mausoleums.