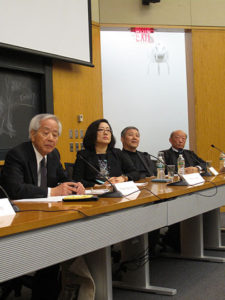 Harvard-Yenching Institute Annual Roundtable
March 22, 2017
Link to video:
Panelists:
Hirano Kenichiro (Professor Emeritus of Tokyo University and of Waseda University; Executive Director of Toyo Bunko (education and employment))
Park Hyungji (Professor of English Literature, Yonsei University)
Wang Hui (Professor of Literature and History, Tsinghua University; Coordinate Research Scholar, Harvard-Yenching Institute and Visiting Professor in East Asian Languages and Civilizations (Spring 2017), Harvard University)
Zhang Longxi (Chair Professor of Comparative Literature and Translation, City University of Hong Kong)
Moderator: Elizabeth Perry (Henry Rosovsky Professor of Government, Harvard University; Director, Harvard-Yenching Institute)
This roundtable sought to exchange ideas about the revival and reinvention of Asian Studies (Chinese studies, Japanese studies, Korean studies as well as regional and global Asian studies) as these programs are being developed at universities and research institutes across Asia. In the case of Chinese studies, this would include both 国学 and 中国学, for example. The roundtable aimed to engage in a serious discussion of various Asian studies initiatives in different Asian countries in terms of their intellectual rationale and potential – as well as the political and financial considerations and controversies that surround them.
This event was co-sponsored with the Asia Center, the Fairbank Center for Chinese Studies, the Korea Institute, and the Reischauer Institute of Japanese Studies.