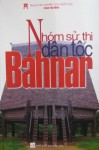 Phan Thi Hong
Hanoi: Van Hoc Publishing, 2006, 463 pages
Reviewed by Tran Thi Phuong Phuong (National University of Ho Chi Minh City)
The Bahnar is an ethnic group with a population of approximately 137,000, who live primarily in Kontum and Gia Lai provinces of Tay Nguyen (Central Highlands of Vietnam). Their language belongs to the Mon-Khmer language family. Like many other long-term inhabitants of Tay Nguyen, the Bahnar have created a unique culture, which is preserved in their epics known as "h'mon".
The epics of the ethnic groups in Tay Nguyen were previously preserved in oral tradition by singing and retelling through generations, but since 1927, when the Ede's epic of Dam San was first published in Paris by French folklorist L. Sabachier, they have also been recorded, compiled and studied. The Bahnar epics, such as Dam Noi and Xing Chi On, were introduced after 1975. These epics still remain in their performable form (h'ri) even in the present day.
Phan Thi Hong has spent years in Bahnar villages of Kontum, including the oldest Kontum Konam area. She has learned the Bahnar language and life style, and has communicated with the epic singers, few of whom survive today. Her book is the result of long-term hard work compiling, translating and analyzing the Bahnar h'mons in Kontum province.
The first part of the book is a survey on the collection of 19 h'mons that Hong has uncovered, recorded and translated from Bahnar into Vietnamese since 1985. Influenced by Propp's conception of epic, Hong identifies those h'mons as heroic epics belonging to a Bahnar epic cycle with a central hero named Giông (the Giông cycle). Hong's analysis focuses on the Giông cycle's structure, the plots, the system of characters and motifs (such as motif of the kidnapped Beauty, motif of the heroic battle for the Beauty, motif of unsuccessful battle and so on). Additionally the central character Giông in the cycle and his deeds is examined in comparison with the heroic characters in the epics of other ethnic groups in Tay Nguyen as well as with the heroic characters in the ancient Greek and Indian epics. Hong also examines some characteristics of Bahnar language in Giông cycle.
The second part of the book contains the texts of some Bahnar folk tales and epics, including two typical epics from Giông cycle "H'mon Giông Bok Loa" (Giông in Hunting) and "H'mon trewet bogieng ko Giong" (Trewet hated Giong) in both Vietnamese and Bahnar.
The Bahnar epic cycle is a large group of approximately 30 or more epics. Hong's survey in this book is only a small part of her overall research of Bahnar epics. A professor of Dalat University, Hong has participated in the government project "Investigation, Compilation, Translation, Publication and Preservation of Tay Nguyen Epics" implemented since the mid-1990s, and in the 62-volume "Treasure Trove of Tay Nguyen Epics" project, the most voluminous epic collection in Vietnam published by the Vietnamese Academy of Social Sciences from 2004 to 2007.