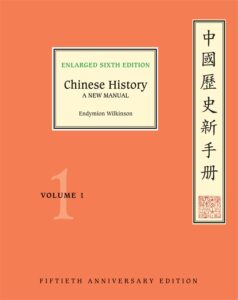 Endymion Wilkinson
Harvard-Yenching Institute Monograph Series 127 & 128
Publication date: June 2022
Publisher's website – Volume 1
Publisher's website – Volume 2
About the book: Endymion Wilkinson's bestselling Chinese History: A New Manual has been continuously in print for fifty years. It has achieved this unusual distinction because the author expanded its scope with each new edition. In the process it has grown from a modest research guide to Chinese imperial history into an encyclopedic, 1.7-million-word introduction to Chinese civilization and the primary and secondary resources and research problems for all periods of Chinese history. In recognition of its unique value, the Académie des Inscriptions et Belles-Lettres (France) awarded the third edition the Stanislas Julien Prize, and in 2016, Peking University Press published the entire Manual in a three-volume Chinese edition.
The sixth edition of the Manual has been revised and expanded throughout to include the latest developments in digital tools and the two dozen ancillary disciplines essential for work on Chinese history. In addition, its temporal coverage has been extended to the death of Chairman Mao.
In celebration of a half century of continuous publication, the enlarged sixth edition consists of two volumes. Volume 1 covers topics ranging from Language, Education, and the Arts to Science, Technology, and the Environment. Volume 2 presents primary and secondary sources chronologically by period from the Neolithic to 1976.