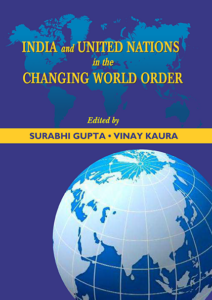 Nishit Kumar
in India and UN in Changing Global Order (Surabhi Gupta and Vinay Kaura, eds.)
Centre of Excellence on United Nations Studies (CU-UNS), Sardar Patel University of Police Security and Criminal Justice, Jodhpur, Rajasthan, India, 2023
Abstract: Over the last five decades, China has methodically permeated not only the various bodies of the United Nations but also several other global institutions. Most of these Chinese officials who are working in important positions at global institutions have been part of China's party-state governmental organisations in the past and have worked in politically significant positions. China is present either as the head or a deputy position in almost all critical international agencies. Being a geopolitical and economic rival, such a huge presence of Chinese officials in important global bodies can have consequences for India. In view of this, the current research paper aims to highlight China's efforts to hijack global institutions and their implications for India.
Key Words: China, India, Chinese officials, United Nations, Global Bodies
About the author: Nishit Kumar was a HYI Chinese Studies in India Visiting Fellow from 2019-20.