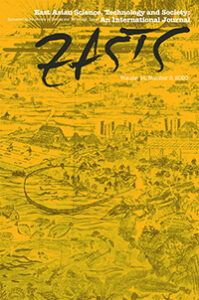 Hiro Fujimoto
East Asian Science, Technology and Society: An International Journal, 14(3), 2020, pp. 439–458.
Abstract: Several historians have analyzed the various uses of medical films and have examined how cinematography changed the epistemology of medical doctors, or how governments and private companies utilized moving pictures for promoting ideas of hygiene among the general public. But historians have paid little attention to those medical films that were circulated in Japan. Some Japanese surgeons recorded their operations and screened surgical films in academic meetings to convey their techniques effectively. Others used moving pictures to educate medical students, who had limited opportunities to observe professors' skills in schools. In 1929, this type of medical film began to circulate in Japan: a pharmaceutical company imported German medical films while one film company collaborated with a medical professor to record the first surgical film in the country. The 1930s witnessed the wide dissemination of medical films that followed the introduction of small-gauge film to Japan, and a flourishing medical film production continued until the outbreak of the Pacific War in 1941. This article examines why and how these medical films were domestically circulated in Japan and internationally screened outside Japan by looking at not only how medical practitioners used films but also how they successfully cooperated with a pharmaceutical company, filmmakers, technicians, and government.
About the author: Hiro Fujimoto was a HYI Visiting Fellow from 2016-17.