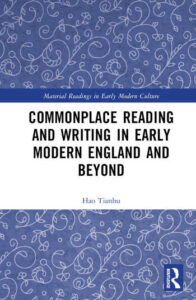 Tianhu Hao
London and New York: Routledge, December 2023
Material Readings in Early Modern Culture Series
About the book: Approaching from bibliographical, literary, cultural, and intercultural perspectives, this book establishes the importance of Hesperides, or the Muses' Garden, a largely unexplored manuscript commonplace book to early modern English literature and culture in general.
Hesperides, or the Muses' Garden is a seventeenth-century manuscript commonplace book known primarily for its Shakespearean connections, which extracts works by dozens of early modern English authors, including Shakespeare, Bacon, Ben Jonson, and Milton. This book sheds light on the broader significance of Hesperides that refashions our full knowledge of early modern authorship and plagiarism, composition, reading practice, and canon formation. Following two introductory chapters are three topical chapters, which respectively discuss plagiarism and early modern English writing, early modern English reading practice, and early modern English canon formation. The final chapter further expands the field to ancient China, comparing commonplace books with Chinese leishu, exploring Matteo Ricci's cross-cultural commonplace writing, and re-reading Shakespeare's sonnets in light of Ricci's On Friendship.
The solid book will serve as a must read for scholars and students of early modern English literature, manuscript study, commonplace books, history of the book, and intercultural study.
About the author: Tianhu Hao is a HYI Visiting Scholar from 2023-24.