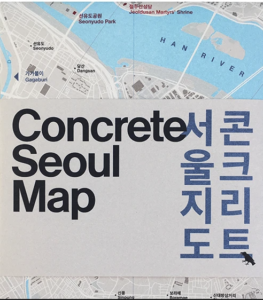 Kim Hyon-Sob
London: Blue Crow Media, 2019.
About the book: Celebrating the most remarkable concrete buildings in Seoul, Concrete Seoul Map is a two-sided, bilingual guide including a beautiful map of Seoul, an introduction by Korea University-based architectural historian Professor Hyon-sob Kim, photographs by Yongjoon Choi, and details of over fifty selected buildings. The map texts are in English and Korean.
Concrete Seoul Map offers a unique look at Seoul's unsurpassed history of concrete architecture from the 1960s to today. Concrete construction, heralded by renowned architects such as Swoo-geun Kim, is now the signature of many Korean architects. This map highlights the most unique and influential examples of concrete buildings and structures across the city. Architects featured include Chung-up Kim, Swoo-geun Kim, MVRDV, Steven Holl, Zaha Hadid, Sae-min Oh, Hee-soo Kwak, and many others.
About the author: Kim Hyon-Sob was a HYI Visiting Scholar from 2014-15.