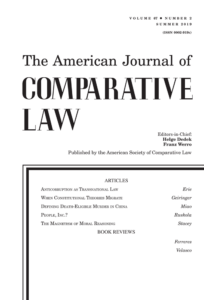 Michelle Miao
The American Journal of Comparative Law, Volume 67, Issue 2, June 2019
Professor Miao received the 2020 Hessel Yntema Prize for "the most outstanding article on comparative law by a scholar under 40 years of age" from the American Society of Comparative Law for her article.
Abstract: The central purpose of this Article is to illuminate the process and politics of China's sentencing regime for capital murder. Since 2007, China's death penalty reform has resulted in a recalibration of the convicted murderer's eligibility for execution. The reform heralded a substantial decline in the number of capital sentences, as well as a rise of an alternative to execution: the suspended death sentence. In the reform era, how do Chinese courts determine who should be spared from execution and who deserves the ultimate punishment of death? This Article uses a quantitative analysis of 369 capital murder cases, as well as elite interviews with forty judges—from China's provincial-level Higher People's Courts and the Supreme People's Court—to analyze the political logic behind Chinese courts' approach to defining the execution worthiness of convicted murderers. While there is a rich literature on capital sentencing in the United States, there is a dearth of comparative analysis of the challenges Chinese courts face in drawing the distinction between life and death sentences in the country's unique social and political context. This Article seeks to make a contribution to this crucial topic.
About the author: Michelle Miao was a HYI Visiting Scholar from 2019-20.