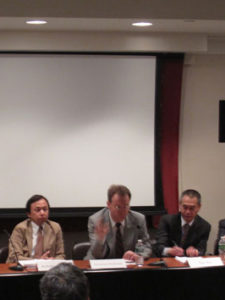 Harvard-Yenching Institute Annual Roundtable
April 5, 2010
Link to video:
Panelists:
Sebastian Heilmann (Trier University)
Pan Wei (Peking University)
Wang Hui (Tsinghua University)
Barry Naughton (UC-San Diego)
Kokubun Ryosei (Keio University)
Moderator: Elizabeth Perry (Harvard University/HYI)
What explains China's stunning economic record and continued political stability decades after most other Communist systems in the world collapsed? Does the Chinese case pose a challenge to certain basic social science assumptions about the relationship between economic and political change?
Is the People's Republic of China simply an example of "delayed democracy"? Or is China on a trajectory that defies standard Western predictions about the connection among markets, civil society, and democratization? If the Chinese case does indeed depart significantly from standard models of transition and transformation, what wider lessons can we draw from its experience — for other developing countries as well as for social science theory?
This roundtable brought together an inter-disciplinary group of distinguished international scholars — from China, Taiwan, Japan, Germany and the United States — to offer their perspectives on these complex questions.
This event was co-sponsored with the Fairbank Center for Chinese Studies