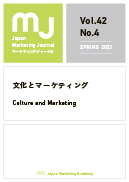 Takeshi Matsui
Japan Marketing Journal, Volume 42 Issue 4, 2023
Abstract: The purpose of this paper is to examine the historical development of Japanese restaurants in New York City (NYC). There are two main findings. First, the postwar expansion of Japanese companies into the US led to an increase in corporate demand for Japanese restaurants for entertaining their clients, which stimulated development of upscale Japanese restaurants. In some cases, Japanese companies directly invested in expanding Japanese restaurants into NYC. Second, the only Japanese cuisine known to Americans in the past was sukiyaki, tempura, and teriyaki, but through the efforts of various entrepreneurs, less well-known Japanese dishes such as sushi and ramen have become new icons of Japanese cuisine. More recently, Japanese cuisine has been further subdivided into a variety of restaurants, including izakaya (Japanese-style pub) and restaurants specializing in items such as yakitori (skewered chicken), curry rice, motsunabe (a hotpot dish with mainly beef or pork), karaage (fried chicken), okonomiyaki (Japanese savory pancake), and yoshoku (Western-influenced cooking). Because of this collective effort by entrepreneurs, NYC has achieved a diversification of Japanese cuisine not seen in any other part of the US.
要約:本論文の目的は,米国ニューヨーク市(New York City,以下 NYC)における日本料理レストラン(Japanese restaurant)の歴史的発展の経緯を明らかにすることにある。主要な発見事実は 2 つある。第 1 に,戦後の日本企業の対米進出にともない,接待など法人需要が高まったため,高級日本料理レストランの発展を促した。日本のレストランの NYC 進出に日本企業が出資するケースも見られた。第 2 に,かつて米国人に知られた日本料理は,すき焼き,天ぷら,テリヤキぐらいしかなかったが,企業家の努力を通じて,寿司やラーメンのような未知の日本料理が定着した。さらに近年では,居酒屋,焼き鳥屋,カレー専門店,モツ鍋料理店,お好み焼き屋,洋食レストランなど,日本料理の細分化が進んでいる。この集合的な努力がゆえに,NYC は米国の他の都市には見られない日本料理の多様化が実現している。
About the author: Takeshi Matsui is a HYI Visiting Scholar from 2022-23.