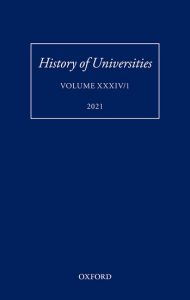 Ku-ming Chang and Alan Rocke, eds.
Oxford University Press, 2021
About the book: This volume compares the training of scholars in different disciplines and countries across the globe in a century that laid the foundation for modern academia. The articles in this volume examine the different training "instruments" and methods for text-based disciplines (history and philology), laboratory sciences (such as chemistry), theoretical sciences (mathematics, for instance), fieldwork disciplines (linguistics and paleontology), and clinical science (medicine). They consider countries or societies in Europe, North America, South and East Asia, and Latin America, and analyze the roles of the state, nationalism and internationalism that shaped the institutions and policies for research education. Some of these articles are comparative, while the others are in-depth case studies of individual disciplines in specific countries at different stages of scientific developments. The introduction and conclusion of this volume bring together the important themes that run across the article and make necessary supplements to present a synthetic picture of the global history of research education.
In December 2015, HYI co-sponsored a conference on "Training Research Scholars: Institutions, Disciplines, and National Cultures, 1860-1945" (held at Academia Sinica, Taipei, Taiwan) which gave rise to the book.
About the author: Ku-ming (Kevin) Chang was a HYI Visiting Scholar from 2011-12.