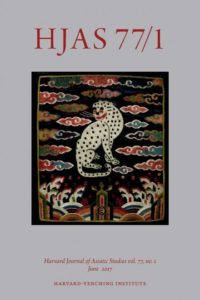 Harvard Journal of Asiatic Studies
June 2017
Special Issue on the Tributary System:
SAEYOUNG

 

PARK

 on the 

IR

turn in premodern history

HENDRIK

 

SPRUYT

on culture, hegemony, and the limits of political science

SAEYOUNG

 

PARK

 on an East Asian alternative to Westphalian 

IR

JOSHUA

 

VAN

 

LIEU

on the tribute system and 19th century China-watching

SANKARAN

 

KRISHNA

on the insidiousness of Eurocentrism
With a response by 

DAVID

 

KANG

 and an afterword by 

PRASENJIT

 

DUARA
Review Essays:
JACK

 

CHEN

on new approaches to Tang literature

PETER

 

PERDUE

on the Yellow River in Chinese history

PERRY

 

LINK

 on Confucius Institutes
14 Book Reviews
To view the full table of contents, visit the HJAS website. 
About HJAS: Founded in 1936 under the auspices of the Harvard-Yenching Institute, the Harvard Journal of Asiatic Studies (HJAS) has without interruption pursued its mission to disseminate original, outstanding research and book reviews on the humanities in Asia, focusing at present on the areas of China, Japan, Korea, and Inner Asia. 
For a complete run of back issues online, with a five-year moving wall, see JSTOR. Starting with Volume 69 (2009), issues are also available through Project MUSE. For more information, please visit the HJAS official website.