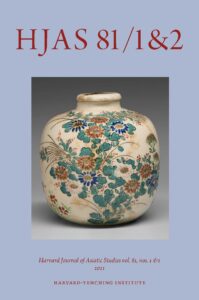 Harvard Journal of Asiatic Studies
June-December 2021
Special Issue on Slavery in Early Modern East, Inner, and Southeast Asia
special issue articles:
Lúcio de Sousa on slavery's invisibility in Asia
Adam Clulow & Siyen Fei on Chinese slaveholders in SE Asia
Claude Chevaleyre on lineage regulations on slavery
Nam-lin Hur on Japan's invasion & capture of Koreans
Tina Lu on slavery in The Plum in the Golden Vase
Sam H. Bass on slave donations to lamas in Mongolia
Sun Joo Kim on the resilience of Korean slavery
Eugénie Mérieau on slavery as state resistance in Siam
Stuart M. McManus on slavery in Macau & South China
Hyun Suk Park on courtesan slavery in Chosŏn Korea
Kristin Roebuck on female slavery in Asia-Pacific patriliny
Johanna S. Ransmeier on slavery's spectrum
review essays:
David R. Ambaras on reconciliations in East Asia
Alexander Zahlten on "Asian Media Studies"
Wenqing Kang on queer East Asia
reviews of books by Saskia Abrahms‐Kavunenko, Johan Elverskog, Thomas T. Allsen, Roxann Prazniak, Eiichiro Azuma, Julia C. Bullock, Susan L. Burns, Leo van Bergen, Zev Handel, Peter Francis Kornicki, Macabe Keliher, Jina E. Kim, Monica Kim, Sonja M. Kim, Elisabeth Köll, Scott Pacey, Daniel Poch, Franz Prichard, and David M. Robinson
To view the full table of contents, visit the HJAS website.
About HJAS: Founded in 1936 under the auspices of the Harvard-Yenching Institute, the Harvard Journal of Asiatic Studies (HJAS) has without interruption pursued its mission to disseminate original, outstanding research and book reviews on the humanities in Asia, focusing at present on the areas of China, Japan, Korea, and Inner Asia.
For a complete run of back issues online, with a five-year moving wall, see JSTOR. Starting with Volume 69 (2009), issues are also available through Project MUSE. For more information, please visit the HJAS official website.