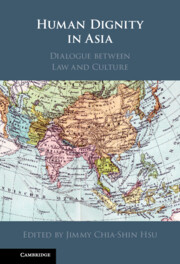 Jimmy Chia-Shin Hsu, ed.
Cambridge University Press, 2022
About the book: Using interdisciplinary methods, this book is a pioneering exploration of Asian understandings of human dignity and human rights. It encompasses rigorous scrutiny of dignity jurisprudence in major Asian apex courts, detailed philosophical analysis of dignity in religious traditions, and contextualized socio-political analysis of religious dignity discourse in several Asian societies. This is an innovative systematic survey of how human dignity is understood in Asia, demonstrating how those understandings converge and diverge with other parts of the world. Synthesising legal, philosophical, and sociological expertise, this volume furthers the dialogue between Asia and the West, and advances debates on whether human rights are universal or particular to any one region. As many of the world's liberal democracies are challenged by polarization and populism, this comparative study of human dignity broadens our horizons and offers a potential alternative to a rigidified social imagination.
About the editor: Jimmy Chia-Shin Hsu was a HYI Visiting Scholar from 2016-17.