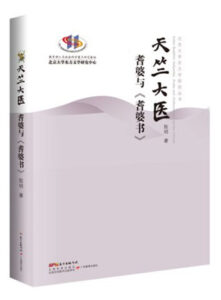 Chen Ming 陈明
Guangzhou: Guangdong Education Publishing House 广东教育出版社, 2021
Reviewed by Xuan Wang 王萱(Ph.D. Candidate, Peking University, 2021-2022 HYI Visiting Fellow)
Chen Ming has published a new book titled Indian Buddhist Vaidyarāja: Jīvaka and Jīvaka-pustaka across cultures, which further delves into the field of Indian medicine, which he has been working on for many years. In 2005, his other work A Study on Sanskrit Text of Jīvaka-pustaka from Dunhuang, which we could regard as the predecessor of this new book, systematically introduced the important bilingual text (Sanskrit and Khotanese) of Jīvaka-pustaka from Dunhuang for the first time, and offered an authentic Chinese translation. Jīvaka-pustaka, belonging to the Indian Āyurvedical system, is a collection of medical prescriptions attributed to Jīvaka who was a famous physician revered as the Medicine King in ancient India. With the introduction of Buddhism, the story of Jīvaka began to circulate in China, and he eventually occupied a significant place in the history of Sino-Indian medical culture. Chen Ming has also written more than ten papers related to Jīvaka-pustaka and Jīvaka in the past 20 years, which indicates his continued interest in the subject.
As Chen Ming writes, this book is a compilation of previous work, and because of this, the advantages and disadvantages of this book are apparent even though the author had added to it and revised it. I agree with the author that this book is a fairly comprehensive and complete work taking Jīvaka as the core research object. The whole book is divided into nine chapters and an appendix of two translations from Sanskrit and Khotanese respectively. In these chapters, Chen Ming devotes most of the space to researching the content and dissemination of different texts and recipes ascribed to Jīvaka, like Jīvaka-pustaka and Qi-po fang 耆婆方 (chap.5), Qi-po wu-zang lun 耆婆五脏论 (chap.6), Qi-po wu-zang jing 耆婆五脏经 (chap.7), and some others in chapter 2 and 8. Chen Ming has fully demonstrated his outstanding and solid ability in philology by using multilingual materials including Chinese, Sanskrit, Pāli, Tibetan and so on. At the same time, Chen sifted through all of the references that he could find, including Jīvaka's Buddhist sutras, vinayas, monks' travels and some secular documents from frontier areas, after which he concluded Jīvaka's biography in the Buddhist sutras (chap.1) and the changes in the representations of Jīvaka and his influence in Dunhuang and Turfan (chap.3). In his view, it is because of the close connection with Buddhism that Jīvaka evolved from an ordinary physician to the Medicine King, and the reason why he became popular in different cultural circles due to the similar cultural psychology that people have when facing illness.
Chen Ming has presided over a project about illustrated manuscripts of ancient literature works in recent years, which has prompted him to pay more attention to collecting image material of Jīvaka. In chapter 9, he focused on Jīvaka's iconography in Southeast Asia and East Asia. Compared to text, images are more vivid and they can offer visual evidence about the transmission and development of Jīvaka in history. Chen's idea to combine text and image is inspirational for scholars in related fields. Nevertheless, it is a pity that this particular part is still slightly insufficient compared with other chapters.
It would be better if the structure of the book could be adjusted a bit more, as it can seem a bit scattered. Adding to this, the continuity between chapters is not very clear, and each chapter is relatively independent. However, this seem to be inevitable, if we consider that each chapter was previously a single paper. Chen's research involves medical history, religion, folklore, art, and cross-cultural exchange, and the various research methods utilized are worthy of recognition. Moreover, this book provides a very representative case to help us better understand the diversity and complexity of medical cultural exchange on the ancient Silk Road. This work allows us to sketch a historical picture of the spread of Indian medicine from South Asia along the Silk Road to East Asia following Chen's discourses.