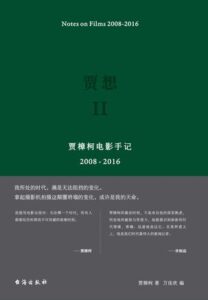 Jia Zhangke 贾樟柯, Wan Jiahuan (ed.) 万佳欢(编)
Beijing: Tai Hai Chu Ban She 台海出版社, 2018.
Reviewed by Madhurendra Jha (PhD candidate, Jawaharlal Nehru University)
In Chinese, 'hometown' and 'imagination' share the same sound Jiaxiang, albeit with different tones and characters. Playing on the sound and meanings of Jiaxiang, Jia Zhangke's notes on films is also called Jiaxiang, in which Jia is the character of Jia Zhangke's surname (贾) and Xiang is the character for 'to think' (想). Written by Jia Zhangke, Jiaxiang II is second in the series of Jiaxiang and is primarily a collection of essays on his films released between 2008 and 2016. However, the feel of the soft leather(ish) bound journal like green cover of Jiaxiang II and the nature of these essays may have the reader feeling that he or she is reading Jia's personal diary and not just a book, the writings of which are as profound as they simple.
Divided into five headings, each named after one of his films and the year the film was released in, this diary is not only an excellent primary resource on the works of Jia Zhangke but also the works which have influenced him. While writing about his works, namely Cry Me a River (2008), I Wish I Knew (2010), A Touch of Sin (2013), Mountains may Depart (2015), The Hedonists (2016), Jia has also meticulously made notes on his memories of his hometown Fenyang, his concern for the rapidly changing Chinese society, his disgust at the vulgar display of money by the Chinese rich, his bewilderment at the nationalism for China among the young Chinese immigrants living in North America, his support for the dissenting voice like that of Iranian filmmaker Jafar Panahi and his admiration for Hou Hsiao Hsien, among many other thoughts. Jiaxiang II ends with a short story written by Jia, titled It's Noon Again (又到正午). The story and Jia's essay on writer Tian Dongzhao (田东照) serve as a reminder that before thinking of being a filmmaker, Jia wanted to be a writer. Jia Zhangke is a writer; he just uses a camera to write.