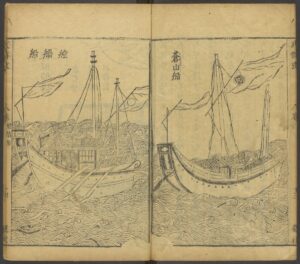 Zheng Dayu 鄭大郁. 48 vols. Originally published 1645
View in Harvard Library Viewer
Original images held by the Harvard-Yenching Library of the Harvard College Library, Harvard University
Summary written by David Li (Regional Studies – East Asia Program, Harvard University)
Completed in the year after the downfall of the Ming dynasty and the Manchu occupation of China, Jingguo xionglüe [Ambitious Strategies of Statecraft] was a 48-volume (juan) compendium of practical knowledge about statecraft by Zheng Dayu of Quanzhou, Fujian, an obscure figure about whom we have little information. With the recent downfall of the Ming (1644) in mind, Zheng intended that "[with this book], every literatus could perform their duties to His Majesty and serve the people in the world" (vol. 1, p. 21).
The compendium is organized around topics in statecraft. Section one treats various concepts and topics in the ordering of the cosmos. Section two surveys the Ming capitals (Beijing and Nanjing) and their surrounding regions (the North and South Zhili provinces). Section three concerns the remaining 13 provinces of the Ming, with essays on the general situation, defense or recovery (from the Manchus) strategies, administration, and feudatories (where applicable).
The following sections explore statecraft policies. The next three sections are all related to waters: section four concerns the Yellow River; section five examines maritime defense; and section six probes the Yangzi River. Sections seven, eight, and nine dwell on domestic policies and explore topics on corvée, taxes, and agriculture. The following two sections shift focus and examine frontier defense and foreign states. Finally, the last two sections scrutinize military strategy and the organization, training, and weaponry of the army and the navy.
This compendium features many maps. While it was not unusual that maps were included in compendia on statecraft, this work was unique in that it featured an extensive selection of sky maps, as the author emphasized the need of understanding cosmology so as to comprehend the way things in the world work.
Another notable thing about this compendium is the sense of urgency and its emphasis on practicality. As the compendium was finished and published in the year after the fall of the Ming, the author clearly had in mind military-related matters as a statecraft priority. Hence, a considerable portion of the compendium is oriented toward military affairs, although he had not neglected to also give adequate attention to other topics of statecraft.
Select Images from Jingguo Xionglüe
Jingguo Xionglüe
Map of the Yellow River
Jingguo Xionglüe
Diagram of ships
Jingguo Xionglüe
Diagram of guns