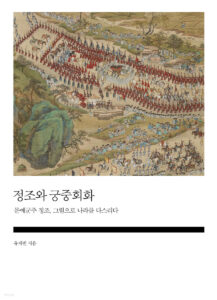 Yoo Jaebin
Sapyoung 사회평론아카데미, October 2022
The book was awarded the "2023 Excellent Academic Publication" by The National Academy of Sciences of Korea (대한민국학술원 우수학술도서).
About the book: King Jeongjo, who reigned from 1776 to 1800, is prominently recognized as the central figure of the 'Joseon Renaissance.' His era is characterized as a true golden age characterized by elements of peace, relative political stability, economic prosperity, and a flourishing cultural scene. Notably, within this cultural renaissance, the field of court art emerged as one of the most vibrant and dynamic domains. It witnessed the rise of master court painters such as Kim Hongdo (1745–after 1806), who ascended to prominence, leading a period marked by innovative stylistic accomplishments, including the assimilation of Western painting techniques.
Nevertheless, beyond these remarkable aesthetic advancements, the court art of this epoch holds significant political import. King Jeongjo, serving as its patron, astutely harnessed court paintings to fortify his political influence and consolidate his rule.
King Jeongjo demonstrated a keen understanding of the persuasive power of visual language. He instigated substantial reforms in the court art system, overhauling the training and education of artists to ensure that his intentions could be effectively rendered through visual media. His political messaging was intricately encapsulated within these artworks, akin to a meticulously composed script, and the subsequent dissemination and deliberate display of these works bore substantial significance.
The primary objective of this book is to provide a comprehensive exploration of the multifaceted vision embedded in King Jeongjo's art policy. This endeavor encompasses an extensive analysis of the array of paintings originating from King Jeongjo's court, encompassing portraits of the monarch himself, depictions of historical sites, and the ceremonial folding screens pertaining to royal rituals.
About the author: Yoo Jaebin was a HYI Visiting Fellow from 2012-13.