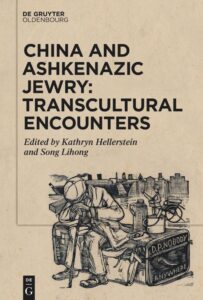 Lihong Song and Kathryn Hellerstein (co-editors)
De Gruyter Oldenbourg, 2022.
About the book: In the past thirty years, the Sino-Jewish encounter in modern China has increasingly garnered scholarly and popular attention. This volume will be the first to focus on the transcultural exchange between Ashkenazic Jewry and China. The essays here investigate how this exchange of texts and translations, images and ideas, has enriched both Jewish and Chinese cultures and prepared for a global, inclusive world literature. The book breaks new ground in the field, covering such new topics as the images of China in Yiddish and German Jewish letters, the intersectionality of the Jewish and Chinese literature in illuminating the implications for a truly global and inclusive world literature, the biographies of prominent figures in Chinese-Jewish connections, the Chabad engagement in contemporary China. Some of the fundamental debates in the current scholarship will also be addressed, with a special emphasis on how many Jewish refugees arrived in Shanghai and how much interaction occurred between the Jewish refugees and the resident Chinese population during the wartime and its aftermath.
About the author: Lihong Song was a HYI Visiting Scholar from 2020-21.