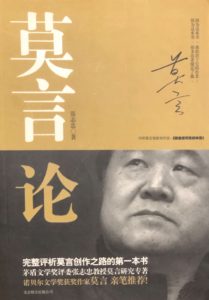 Zhang Zhizhong 张志忠
Beijing United Publishing Company (北京联合出版公司), 2012
Reviewed by: Nishit Kumar (Doctoral Candidate, Jawaharlal Nehru University and HYI Visiting Fellow)
A field of study advances through the pivotal works it yields. In that sense, Zhang Zhizhong's book "On Mo Yan"[1] is a pioneering addition to Mo Yan studies. Zhang methodically and meticulously explains Mo Yan's creative process and the characteristics of his works. He offers an illuminating analysis of geographical characteristics, artistic techniques, and aesthetic features of Mo Yan's artistic creations with the help of the historical materialism method. Readers are richly rewarded with fascinating details about the life ontology in Mo Yan's creations, that is, in the nature of the countryside, in the integrated world of the life of humans, plants, animals and land, the simple and natural life experience produced by edification, wildness and distortion, 'red sorghum spirit' and 'degeneration of species', and exaggeration of artistic imagination.
In this book, Zhang analyzes Mo Yan's works and its emergence from the native land and culture where Mo Yan was nurtured and influenced. He explains the trajectory of literature development and the historical factors that underlie Mo Yan's success. Zhang compares Mo Yan's works with a large number of writers in the same period and determines that the evolution of history and art is interlinked. For example, Mo Yan's childhood experience, lack and hunger, indifference and loneliness made him eager to escape from the native land which was the reason for him becoming a 'spiritual wanderer' eager to 'find his lost home' in the art world. The construction of the Red Sorghum Myth was just to build a 'Testimonial of Heroic Ancestors' next to his 'grey grave' of childhood memories, so that the history and reality of Gaomi Northeast Township could be mutually reflected and wonderfully blended into the world of art. Zhang points out that Mo Yan's success lies in his imagination which is not 'imaginary reality' but a kind of reality and life for transformation of the psychological connection of national culture. Mo Yan's novels focus on suffering, independence, the decline of free will and the pioneering spirit. Literary critics have talked a lot about the life consciousness in Mo Yan's art world, but Zhang deepens the understanding of the expression of Mo Yan's sense of life. According to Zhang, Mo Yan's artistic expression is precisely through the 'integration of life', which realizes the 'physical and psychological transformation and communication'. Mo Yan wrote a world full of life consciousness. In Mo Yan's works, there is a contradiction between the integration of life and the individualization of life, but this contradiction is not a contradiction in life in essence, but a contradiction in behavior. In the analysis of the feeling of life in Mo Yan's works, Zhang extends from the transformation process of 'art of feeling' to the essence of art and looks at the wisdom that Mo Yan's creations brought to the ontology and methodology of literature and to literary theory. The author points out that the uniqueness of Mo Yan is that his artistic feeling is centered on life consciousness and life ontology, and the full openness and great tolerance of life. When rationality is rigidized into several dwarf dogmas holding people's perceptual life and creative spirit, perceptual breakthrough becomes a new opportunity for the development of life and art. Zhang Zhizhong elevates Mo Yan's sense of life to the artistic way.
Mo Yan's art world is intricate and constantly developing, thus it is obviously impossible to root everything, yet Zhang still makes a logical grasp of Mo Yan's creation from a macro perspective of history and aesthetics based on contemporary history and literature. Although, this book repeatedly examines art theory building and promotes some constructive artistic propositions and ideas, the author does not elaborate on each work of the writer which might cause readers to fail in getting the complete picture of a work.
[1] Chinese title of the book '莫言论' could be translated as 'On Mo Yan', 'Mo Yan-ism', 'Mo Yan's theory', 'Mo Yan's speeches', etc. However, the term Mo Yan-ism is still not being generally used by literary critics. Thus, I choose to translate the title of this book as "On Mo Yan".