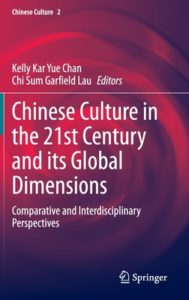 Chulaluk Pleumpanya
in Chinese Culture in the 21st Century and its Global Dimensions: Comparative and Interdisciplinary Perspectives (Kelly Kar Yue Chan and Chi Sum Garfield Lau, eds.)
About the chapter: The construction of identity can be explained by studying media and literature. In the case of overseas Chinese in Thailand, the Thai-Chinese writers and media industry have contributed many of their works related to overseas Chinese. These Chinese pieces of literature and soap operas reflect the way Thai society views overseas Chinese. In many kinds of literature, Thai-Chinese had to endure a lot of hardships in Thailand to establish their own status yet they managed to preserve their Chinese identity as shown in The letter from Thailand (1969). It also portrays the average Thai-Chinese as the successful businessman with strong work ethics according to the Confucian moral standard, for example, Through the Pattern of the Dragon (1988). Most of these works describe the ability of a Chinese person to become a member of elite in Thailand as a result of struggles and perseverance. Another literature example is the portrayal of family conflicts from a Confucian point of view. For example, Through the Pattern of the Dragon depicts sibling rivalry whereas In Family We Trust (2018) describes how patriarchy suppresses the status of women in society. From a social perspective, Thai society continues to view overseas Chinese as a homogenous group with immutable characteristics. The tales from overseas Chinese literature and Soap Opera continue to show centuries-old stereotypes.
About the book: This book investigates the internationalization of Chinese culture in recent decades and the global dimensions of Chinese culture from comparative and interdisciplinary perspectives. It covers a variety of topics concerning the contemporary significance of Chinese culture in its philosophical, literary and artistic manifestations, including literature, film, performing arts, creative media, linguistics, translations and philosophical ideas. The book explores the reception of Chinese culture in different geographic locations and how the global reception of Chinese culture contrasts with the local Chinese community. The chapters collectively cover gender studies and patriarchal domination in Chinese literature in comparison to the world literature, explorations on translation of Chinese culture in the West, Chinese studies as an academic discipline in the West, and Chinese and Hong Kong films and performances in the global context. The book is an excellent resource for both scholars and students interested in the development of Chinese culture on the global stage in the 21st Century.
About the author: Chulaluk Pleumpanya was a HYI Asia-Pacific Studies Training Program Visiting Fellow from 2019-20.