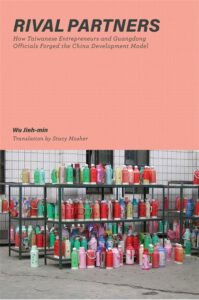 Wu Jieh-min
Translated by Stacy Mosher
Foreword by Elizabeth J. Perry
Harvard-Yenching Institute Monograph Series 133
Publication date: December 2022
About the book: Taiwan has been depicted as an island facing the incessant threat of forcible unification with the People's Republic of China. Why, then, has Taiwan spent more than three decades pouring capital and talent into China?
In award-winning Rival Partners, Wu Jieh-min follows the development of Taiwanese enterprises in China over twenty-five years and provides fresh insights. The geopolitical shift in Asia beginning in the 1970s and the global restructuring of value chains since the 1980s created strong incentives for Taiwanese entrepreneurs to rush into China despite high political risks and insecure property rights. Taiwanese investment, in conjunction with Hong Kong capital, laid the foundation for the world's factory to flourish in the southern province of Guangdong, but official Chinese narratives play down Taiwan's vital contribution. It is hard to imagine the Guangdong model without Taiwanese investment, and, without the Guangdong model, China's rise could not have occurred.
Going beyond the received wisdom of the "China miracle" and "Taiwan factor," Wu delineates how Taiwanese businesspeople, with the cooperation of local officials, ushered global capitalism into China. By partnering with its political archrival, Taiwan has benefited enormously, while helping to cultivate an economic superpower that increasingly exerts its influence around the world.