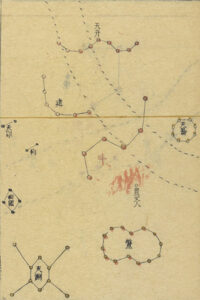 Chen Wen 陳雯. [China : s.n., 1697?]
View San cai fa mi in Harvard Library Viewer
Original images held by the Harvard-Yenching Library of the Harvard College Library, Harvard University
Summary written by Queenie Luo (Ph.D. Candidate in Religion, Department of East Asian Languages and Civilizations, Harvard University)
San cai fa mi 三才發祕, written by Chen Wen, is an important and comprehensive divination text from the Qing dynasty. It has seven volumes and consists of three sections: heaven (2 vols), earth (3 vols) and humanity (4 vols). This book was completed in the 36th year of Kangxi (1697), roughly a hundred years after the Jesuit priest Matteo Ricci arrived China in 1582, presenting the unprecedented astronomical knowledge transfer from Europe to China.
In the section on heaven, Chen explains the basic structure and composition of the solar system from an earthly perspective, introduces the armillary sphere and corrects the constellation positions due to the shift of the earth's axial tilt. Most importantly, Chen reinterprets the materials and doctrines passed down since the Zhou dynasty, particularly, the Book of Changes, and combines these ancient Chinese philosophical ideas with celestial phenomena.
The earth section – covering the concepts of qi, geomancy and geography – is a continuance of the heaven section. Chen points out that the qi of heaven and earth forms a coherent whole of the universe; everything is interconnected and interdependent, nothing is isolated. Thus, when dealing with the auspiciousness or inauspiciousness of earthly phenomena, one must obey the rule of heaven and the cycle of changes.
Chen puts great emphasis on the last section on humanity, examining the eight trigrams, the twelve houses, and the seven celestial planets in relation to one's destiny. Chen emphasizes the idea of "harmony between humanity and nature," and introduces various ways to alter inauspicious qi by adjusting the five elements and the eight trigrams. From the orderly motion of celestial phenomena to the earthly cycle of seasons, human destiny is part of the natural order of the universe.
In general, Chen explains and incorporates western astronomy to ancient Chinese philosophy and corrects some of the misinterpretations of his predecessors. The contribution of San cai fa mi to China's astronomical knowledge as well as divinatory practices is undeniable.
Select Images from San Cai Fa Mi
San Cai Fa Mi
Chen's correction of the constellations' positions
San Cai Fa Mi
Diagrams of the earth, solar system, and astronomical instruments
San Cai Fa Mi
Diagrams of the earth, solar system, and astronomical instruments
San Cai Fa Mi
Diagrams of the earth, solar system, and astronomical instruments
San Cai Fa Mi
Showing the auspicious and inauspicious qi of a site