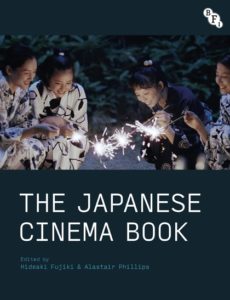 Fujiki Hideaki (co-author, with Alastair Phillips)
British Film Institute/Bloomsbury, 2020
About the book: The Japanese Cinema Book provides a new and comprehensive survey of one of the world's most fascinating and widely admired filmmaking regions. In terms of its historical coverage, broad thematic approach and the significant international range of its authors, it is the largest and most wide-ranging publication of its kind to date.
Ranging from renowned directors such as Akira Kurosawa to neglected popular genres such as the film musical and encompassing topics such as ecology, spectatorship, home-movies, colonial history and relations with Hollywood and Europe, The Japanese Cinema Book presents a set of new, and often surprising, perspectives on Japanese film.
With its plural range of interdisciplinary perspectives based on the expertise of established and emerging scholars and critics, The Japanese Cinema Book provides a groundbreaking picture of the different ways in which Japanese cinema may be understood as a local, regional, national, transnational and global phenomenon.
The book's innovative structure combines general surveys of a particular historical topic or critical approach with various micro-level case studies. It argues there is no single fixed Japanese cinema, but instead a fluid and varied field of Japanese filmmaking cultures that continue to exist in a dynamic relationship with other cinemas, media and regions.
The Japanese Cinema Book is divided into seven inter-related sections:
Theories and Approaches
Institutions and Industry
Film Style
Genre
Times and Spaces of Representation
Social Contexts
Flows and Interactions
About the author: Fujiki Hideaki was a HYI Visiting Scholar from 2006-07.