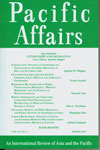 Jaeyoun Won
Pacific Affairs, Volume 93, No. 3 (September 2020)
Prof. Won received the 2020 William J. Holland Prize for this article. The prize is given for the outstanding paper published in the journal Pacific Affairs over the past year.
Abstract: This paper aims to capture the complex process through which former socialist North Koreans are remade as South Koreans. I argue that the process by which border crossers from North Korea are remade into postsocialist subjects is complex and multi-dimensional. I address the interlocked nature of institutions and subjectivities in citizen-making processes. On the one hand, it involves the institutionalizations of border crossers with the purpose of screening out "dangerous socialist subjects" for security reasons, followed by "post-socialist" education at Hanawon. On the other hand, it also entails the cultural dynamics of the citizen-making processes. Border crossers are taught not only about political democracy and the economic market, but the cultural learning of resilience to cope with hardship and uncertainty in South Korea. This paper finds two distinctive responses to the cultural learning of resilience—fear and rejection. In this sense, the institutionalizations and the cultural teaching of resilience have unintended consequences. These citizen-making processes raise the question of what characterizes normal subjectivity in a modern, marketized economy. Rather than accepting these normal assumptions as given and natural, this paper tries to uncover hidden assumptions and to problematize the arbitrariness of these normative assumptions. What appears normal, rational, free, and democratic can be actually accidental, temporary, absurd, and socially constructed. This paper attempts to challenge and demystify the meaning of rational, free, democratic, resilient, and normative citizenships that tend to be taken for granted.
About the author: Won Jaeyoun was a HYI Visiting Scholar from 2011-12.