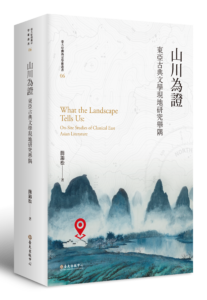 Chien Chin-sung 簡錦松
NTU & HYI Academic Book Series No. 6
National Taiwan University Press, September 2018
About the book: On-site research is a newly-developed methodology for the study of classical Chinese literature. This book introduces the method and presents scholars working on classical Chinese poetry in ancient East Asia with five standardized steps for performing on-site research. It begins by explaining how poets desired to picture things as they were, making on-site research, and the use of GPS, a necessary approach to the study of poetry. Eight case studies follow, of (1) Sun Qiao (孫樵) and Baoxie Road, (2) Bai Juyi (白居易) and Lantian Road, (3) Wang Wei (王維) and Wangchuan, (4) Collected Poems in Wangchuan (輞川), (5) Landscape at Wangchuan, (6) Nguyễn Bỉnh Khiêm (阮秉謙), a Vietnamese poet of the Mạc Dynasty, and the Bạch Vân Am, (7) the Koryo poet Li Qixian (李齊賢) and E'mei, Chengdu, and (8) the Koryo poet Liu Chenglung (柳成龍) and Chong chou. These practical examples serve as a handbook for the scholar who wishes to learn this method of research.
Both a poet and a professor, the author has insight into Chinese classical literature thanks to his ability to both write and research poems. His research expertise also crosses regional boundaries, covering Korea, Vietnam and China. Before the rise of GIS research, the author had already put forward the idea that modern technology including GPS, satellite maps, digitalized ancient maps, and astronomical computing should be brought into on-site research, hoping to bring the study of classical Chinese literature into the realm of verifiable modern science. All these ideas and their applications are featured in this book.
About the NTU & HYI Academic Series: The book series, published by National Taiwan University Press, is a collaboration between the Harvard-Yenching Institute and the College of Liberal Arts of National Taiwan University. The Series publishes scholarly monographs in Chinese which make a major original contribution to the humanities and social sciences. Interdisciplinary studies are especially welcome. Submissions are encouraged from all Chinese-speaking regions and beyond. For more information about the NTU-HYI series, please visit the NTU Press website.