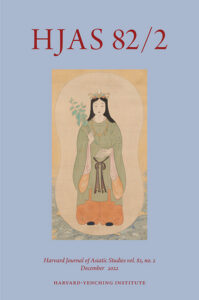 The current issue (Volume 82, Number 2) includes:
research articles:

CHEN LIU on the rise of tiba colophons as a literary genre in Song dynasty China
ELLEN GARDNER NAKAMURA on the social history of sea bathing in Meiji Japan
CHARLOTTE EUBANKS on the interment and excavation of Buddhist sutras in Japan
review essay:
D. JONATHAN FELT on the study of local and borderland spaces in early China
and reviews of books by Robert Ford Campany, Hyaeweol Choi, Louise Edwards, Randolph B. Ford, Jie Li, Ian Miller, Meng Zhang, Laura Moretti, Si Nae Park, and Chün-fang Yü
To view the full table of contents, please visit the HJAS website. The full issue is available on Project MUSE.
About HJAS: Founded in 1936 under the auspices of the Harvard-Yenching Institute, the Harvard Journal of Asiatic Studies (HJAS) has without interruption pursued its mission to disseminate original, outstanding research and book reviews on the humanities in Asia, focusing at present on the areas of China, Japan, Korea, and Inner Asia.
For a complete run of back issues online, with a five-year moving wall, see JSTOR. Starting with Volume 69 (2009), issues are also available through Project MUSE. For more information, please visit the HJAS official website.