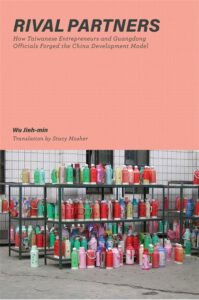 The Harvard-Yenching Institute is pleased to announce that Rival Partners: How Taiwanese Entrepreneurs and Guangdong Officials Forged the China Development Model (HYI Monograph Series #133) has been awarded the 2023 Global and Transnational Sociology Best Publication (Book) by an International Scholar Award. The award is given by the American Sociological Association.
The book is by Wu Jieh-min and translated by Stacy Mosher, with a foreword by HYI Director Elizabeth Perry. It was published in 2022 by the Asia Center Publications Program, as part of the HYI Monograph Series.
To learn more about the book, visit the Harvard University Press website.
The original Chinese-language version of the book, 尋租中國──台商、廣東模式與全球資本主義, was published in 2019 by National Taiwan University Press as part of the NTU & HYI Academic Book Series. An extended edition, the 6th edition of the book, containing new content from the author's fieldwork and 50 additional illustrations, was published in 2023.