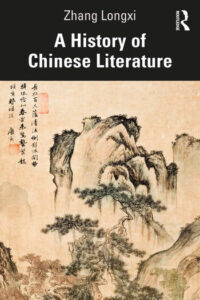 Zhang Longxi
Routledge, November 2022
About the book: Zhang Longxi, an internationally renowned scholar of Chinese and comparative literature, is your guide to the three-millennia-long history of Chinese literature from the remote antiquity of oracle bones to contemporary works.
Professor Zhang charts the development of the major literary forms in Chinese, including poetry, prose, song lyrics, and plays, and introduces the most famous poets and writers and their representative texts. Taking a period-based approach through the major dynasties, he places these forms, texts, and authors within their historical contexts and tells the fascinating story of Chinese literature with copious examples in English translation. He writes in a clear and accessible style and assumes no prior knowledge of Chinese history or Chinese literature.
This book is an ideal introduction for students and the general readers who want to get a broad but thorough overview of Chinese literature in all its richness and diversity.
About the author: Zhang Longxi was a HYI Doctoral Scholar from 1983-87.