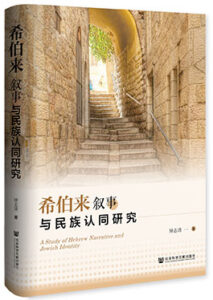 Zhong Zhiqing
Beijing: Social Sciences Academic Press 社会科学文献出版社, October 2022
About the book: This book presents an innovative study of the theme of Jewish national identity from a unique perspective. Starting from the narratives of Hebrew classical literature, exile and return, the Israeli state and multiculturalism, the Holocaust, and Eastern Jewry, it is the first book in China to examine the dynamic relationship between Hebrew literature and the construction of the Jewish national identity and the Israeli state, and to interpret Jewish national consciousness, which is a significant breakthrough in terms of methodology.
This pioneering work not only makes a thorough analysis of a dozen of Hebrew texts, but also provides a deep survey of how Hebrew literature has been an important support in the process of Jewish national revival, and serves the current needs of Jewish nation-building and plays an important role in the shaping of national identity. It also discusses the impact of multicultural tensions on the Israeli state and different groups of the Jewish people. The interpretation of the Eastern Jewish narrative fills in the gaps in domestic research in China which is particularly groundbreaking.
本书以独特的视角对犹太族群认同这一主题做了创新性的研究,从希伯来古典文学、流亡与还乡、以色列国家与多元文化、大屠杀、东方犹太人等几大叙事入手,论述希伯来文学叙事与犹太民族身份和以色列国家建构的动态关系,解读犹太人的民族认同意识,在国内尚属首次,在方法论方面的开创意义不言而喻。
本书既细致分析了多部希伯来文学作品,又深入探讨了希伯来文学作品如何成为犹太民族复兴进程中的重要支撑,服务于当下犹太民族国家建设与民族认同的需要,并对民族身份形成发挥重要作用,以及多元文化的张力对以色列国家和犹太民族不同群体的影响。其中对东方犹太人叙事的阐释弥补了国内研究的缺失,尤其具有拓新性。
About the author: Zhong Zhiqing was a HYI Visiting Scholar from 2011-12.