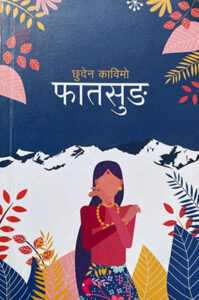 Chuden Kabimo
Siliguri: Sambodhan Prakashan, 2019
Reviewed by Charisma K. Lepcha
Chuden Kabimu's Faatsung is an unassuming yet lively story of the Darjeeling hills. Written in the backdrop of the violent Gorkhaland agitation of the 1980s, 'faatsung' means 'story of the soil' in Lepcha language. It is the story of Darjeeling and her demands for a better life. It is the story of the young people in Darjeeling who fought for their futures. During colonial times, Darjeeling used to be the queen of hills but she has had her fair share of desolate days as the Gorkhaland movement saw zealous youth, bitter rivalries and loss of life.
The story of Gorkhaland movement has been widely studied by academics focusing on history, ethnicity, identity, politics, development etc. It has been a favorite inquiry of scholars from Darjeeling hills too but Kabimu in his debut attempt to narrate the history of the region manages to weave everyday stories of the forgotten people from his own experience of hearing these narratives while growing up. In a very simple but vivid manner, Kabimu's chapters tell readers of the events that took place. The chapters are divided according to different themes like Village Dreams, Fever, Article 144, Black Day, Attack, Chief, Gun, Bomb, Kidnap, Martyr Ram Prasad and the Limping Norden that chronologically tells us about the violence and trauma of the revolution.
Written in a Darjeelingay style of Nepali, Kabimu's voice is fresh and modern bringing back poignant memories of an era gone by. He is able to include characters of different ethnic backgrounds that live in the hills despite what the Gorkhaland movement is often made to be just a 'Gorkha' struggle. One of his advantages is his ability to tell this story from a rural and intimate perspective which has not necessarily been covered by earlier accounts of this movement. It allows an alternate view of a politically violent movement that is historically embedded in the soil of Darjeeling.