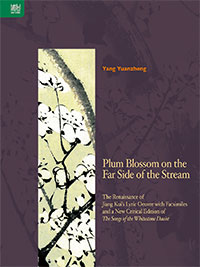 Yang Yuanzheng
Hong Kong University Press, 2019
About the book: With this book, Yang Yuanzheng has produced what will long be regarded as a ground-breaking milestone in the voluminous scholarship on Jiang Kui (1155–1221). Based in part on his 2011 discovery of a major new source of Jiang's work, Yang employs close textual reading and editorial interpretation of this text, augmented by meticulous examination of other material, to tease out an important and innovative explanation of why lyric songs enjoyed such a remarkable renaissance in the eighteenth century, a popularity that has continued through the present. Yang attributes the original revival of Jiang's works to Qing dynasty oppression of the southern Chinese elite and points to an increasing sense of nostalgia as the reason for their enduring popularity.
Plum Blossom on the Far Side of the Stream's accomplishment is to draw on work from many sub-disciplines—early Chinese song forms and their notation, the literary and political movements of early modern China, codicology, and iconography—and to make fresh contributions to these areas as well. This book reflects a unique breadth of scholarship: in addition to lucid argument regarding the reception of Jiang's work, important facsimiles of three major manuscripts, five colour plates, and an audio CD are also included.
About the author: Yang Yuanzheng was a HYI Visiting Scholar from 2019-20.