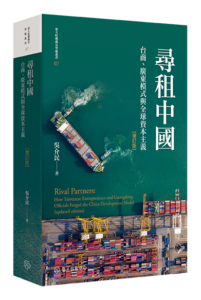 The Harvard-Yenching Institute is pleased to announce that an extended edition of the 7th book in the NTU & HYI Academic Book Series has been published. The monograph, entitled 尋租中國:台商、廣東模式與全球資本主義(增訂版)Rival Partners: How Taiwanese Entrepreneurs and Guangdong Officials Forged the China Development Model (Extended Edition), is by Jieh-min Wu 吳介民. The extended edition was published in March 2023. Additional information about the publication is available here.
This extended edition is the 6th edition the book, with new content from the author's fieldwork and 50 additional illustrations. An English-language translation of the book was published in 2022 as part of the HYI Monograph Series. The first edition of the book was published in March 2019.
About the book: Taiwan has been depicted as an island facing the incessant threat of forcible annexation by the People's Republic of China. Why, then, has Taiwan spent more than three decades pouring capital and talent into China? In award-winning Rival Partners, Wu Jieh-min follows the development of Taiwanese enterprises in China over twenty-five years and provides fresh insights. The geopolitical shift in Asia beginning in the 1970s and the global restructuring of value chains since the 1980s created strong incentives for Taiwanese entrepreneurs to rush into China despite high political risks and insecure property rights. Taiwanese investment, in conjunction with Hong Kong capital, laid the foundation for the world's factory to flourish in the southern province of Guangdong, but official Chinese narratives play down Taiwan's vital contribution. It is hard to imagine the Guangdong model without Taiwanese investment, and, without the Guangdong model, China's rise could not have occurred. Going beyond the received wisdom of the "China miracle" and "Taiwan factor," Wu delineates how Taiwanese businesspeople, with the cooperation of local officials, ushered global capitalism into China. By partnering with its political archrival, Taiwan has benefited financially, while helping to cultivate an economic powerhouse that increasingly exerts its influence around the world and could threaten the island country's political survival.
台灣是中國崛起的受益人也是受害者,這種雙重性點出當今世界與中國的關係糾結。本書從台灣觀點提出對中國經濟崛起的解釋,並藉由台商之眼剖析中國獨特但影響全球的公民身分體制、機構化尋租與發展模式。作者結合宏觀歷史角度和田野調查(以二十五年追蹤了台商在中國的發展,提供紮實而細緻的現場觀察),提出創新觀點。在中國的開放改革年代,台商以特殊而靈活的身分進出中國,連同其他外資,協助啟動中國與全球的連結,並將資本主義制度引進中國,迂迴造成「中國崛起」。在此過程,中國也表現出自身體制韌性,並展現角逐科技霸權和地緣政治優勢的企圖心。然而,作者指出,中國試圖撼動美國在區域和全球支配力,其根本之道在於有實力從物質基礎層面挑戰美國的經濟科技霸權。但中國實力仍未臻成熟之際,習政權過度延伸國力,對內鎮壓、對外威脅跋扈,引發幾近全球規模的警戒。而「中國模式」曾經璀璨的爆發式成長,如今竟成為持續發展的絆腳石。這個貫穿全書的觀點,從本書初版定稿迄今五年,歷經國際政經局勢變遷之驗證而益發清晰可辨。本書獲得2019年孫運璿學術獎最佳書籍;科技部(國科會)2020最具影響力研究專書,人文及社會科學領域;2020年第九屆中央研究院人文及社會科學學術性專書獎。
About the NTU & HYI Academic Series: The book series, published by National Taiwan University Press, is a collaboration between the Harvard-Yenching Institute and the College of Liberal Arts of National Taiwan University. The Series publishes scholarly monographs in Chinese which make a major original contribution to the humanities and social sciences. Interdisciplinary studies are especially welcome. Submissions are encouraged from all Chinese-speaking regions and beyond. For more information about the NTU-HYI series, please visit the NTU Press website.